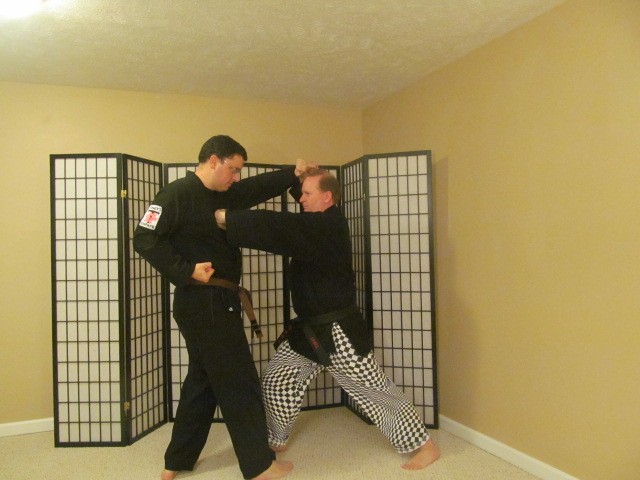 Grandmaster Mark Tracy is a 10th Degree Black Belt in Kenpo Karate. He remembers doing his first karate demo with his dad Great Grandmaster Al Tracy for a third grade talent show in Bellevue, Washington. Al and Mark Tracy loved the mountains of the Pacific Northwest. A young man in 8th grade invited Mark to come out for the middle school track team to get in shape to climb Mount Rainer. He soon found out that he was very distance runner. This lead to running for Woodside High School in California. At age 19 Mark found himself in Sao Paulo, Brazil. He was a missionary who struggled to learn Portuguese. After finishing a two year mission, he worked as a doorman and valet and San Jose Athletic Club. Grandmaster Ted Sumner remembers a skinny valet handing him the keys to his truck and asking him if he was Ted Sumner. After he said he was, a very eager Mark Tracy handed him the keys to to his truck and with a smile said " You are my new instructor." Grandmaster Ted Sumner studied as a youth in the Tracy's Karate Studio in San Jose, Ca. Great Grandmaster AL Tracy said about Ted Sumner, "How good is Ted Sumner ...I had him teach my own son". Mark trained with Grandmaster Ted Sumner for years. Mark decided to run track and cross-country at a university in the mountains of Utah. He had the wonderful opportunity to train under an Olympic coach and run with some fantastic runners some of which were olympians that Mark had admired for years.
Great Grandmaster Al Tracy had moved to Lexington, Ky. Mark visited his dad and The University Of Kentucky. Mark decided that he wanted to be with his dad and pursue his love of early American History at The University of Kentucky. Mark Tracy earned his Shodan Rank (Black Belt) from his father Al Tracy. In 1994 Mark opened his first karate studio in Cincinnati, Ohio. At one time Mark Tracy had two studios in Cincinnati and one in Tampa, Fl. Grandmaster Mark Tracy is based in Tampa, Florida. Mark runs the new Tracy's Karate Worldwide Central Training Headquarters. He has finished some new instructional DVD's and books. He enjoys traveling across the country to train instructors and students. Recently he has had invites to travel to Europe and China.
Imagine a martial art that has been developed and perfected for centuries. It has a Chinese Heritage and finds itself traveling though Japan for centuries. Practitioners used the art to protect their families and themselves. As times are dangerous and violent today they were also centuries ago. Kenpo found its way to Hawaii and Grand Master James Mitose taught William Chow. Training was very hands on and practical. A young Ed Parker learned from William Chow. Ed Parker opened a karate studio in Southern California . The three Tracy Brothers Al, Will, and Jim trained with Ed Parker. Great Grandmaster Al Tracy said about Ed Parker " I had many instructors and Ed was the best instructor I ever had.
After running Ed Parker's studio for years, Al and Jim Tracy opened a karate studio in San Francisco as they attended San Francisco State University. The Tracy Brothers gave names to the self defense moves. Colored belts were introduced to the system. The martial arts was a very small community back then. A young Bruce Lee would come over to the studio in San Francisco. Tracy's Karate opened studios in Sacramento and San Jose, Ca. This lead to franchising Tracy Karate Studios over The United States and Canada. The Tracy's Karate fighting teams dominated. Over 500,000 students have learned Tracy's Kenpo Karate.
Kenpo Karate is a practical self defense. It uses linear and circular movements. It combines blocks, kicks , and punches and other strikes to form self defense techniques. When practiced and perfected these moves become instinctive and are in the motor memory of the student. The body becomes stronger and the student gains confidence.
This is a very brief introduction to Kenpo Karate. The punch line is that it works. For those that are current students we want to help you learn and grow. For those that are instructors we are excited for you and would like to help you and your students. We would like to say to those who found out that life happened and your took a break...Welcome Back! Then there are those that are just starting. How exciting! We were all beginners at some time. Our advice is to enjoy the journey.