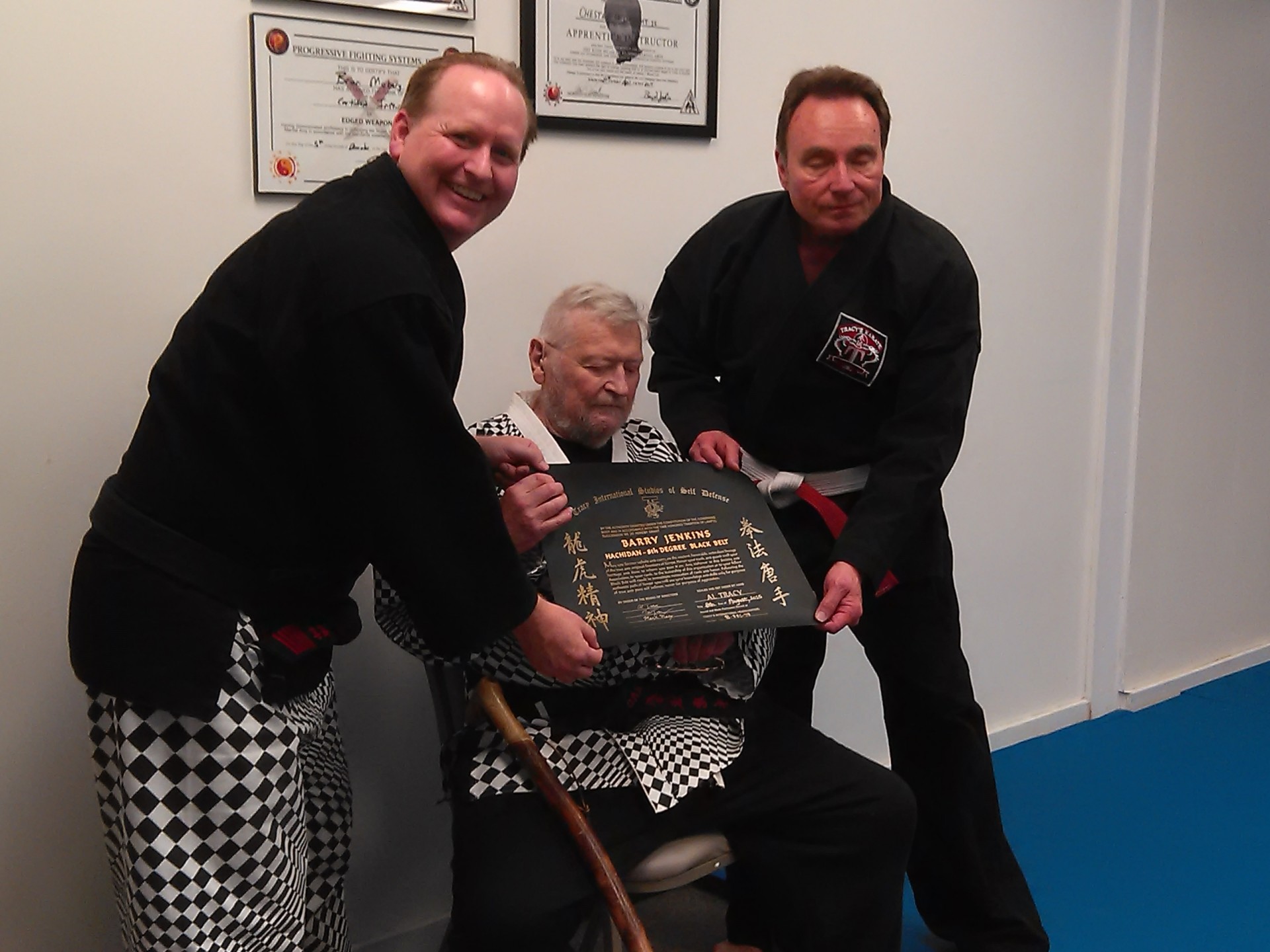 PRODUCTS
To aid in your training we offer DVD'S , Manuals and Clothes. Learn online live with Mark Tracy using Skype.
SEMINARS
Learn the ancient Art Of Kenpo from Grandmaster (10th Degree Black Belt ) Mark Tracy. Check out the upcoming GGM AL TRACY TRIBUTE/ELITE TRAINING SEMINARS on the calendar page. Contact Grandmaster Mark Tracy to book a seminar.



FAMILY TREE
Check your royal linage. It is exciting to know your part of Kenpo History!
The new " Tracy's Karate Self Defense For Women" book is here. It has 11 of the best Tracy's Karate moves for some of the most common attacks. This book has color photos. It is also full of theory and practical examples. The cost is $25 and you can order it on the online store.
The New Dragon And Flame Certificate and Diploma
The response to the new diplomas and certifications has been phenomenal. I understand the hard work and sacrifices that it takes to be promoted. I believe you should receive a handsome diploma or certification acknowledging your achievement. I want you to receive it in a prompt and timely manner.
You deserve it!
Tracy's Karate Online Academy. Study online with private lessons using Skype. We are teaching students all over the world. We can teach in Portuguese as well as English! Schedule a free 30 minute lesson to experience how much you can learn. You can learn directly from Grandmaster Mark Tracy. Perhaps you would prefer a female instructor -Jennifer Brashear is excited to teach you.
Imagine traveling almost 7,000 miles and spending over 100 hours in the car, visiting over 14 studios and groups with Great Grandmaster Al Tracy. Dad talked to me and gave me council about the possibility of this being the last big trip. Since the 1990's there are two active martial artists that had the most close personal access to Great Grandmaster Al Tracy. Who was close enough to really be around him on a regular basis? Whose studios did he choose to personally teach at? Who would he open up to? I will tell you I am one of the two. There are things that he shared father to son. This is not just a book. It is part of the legacy of Great Grandmaster Alva Austin Tracy.
YOU CAN ORDER A COPY ON THE ONLINE STORE.